30 Days of PF: My Transplant Story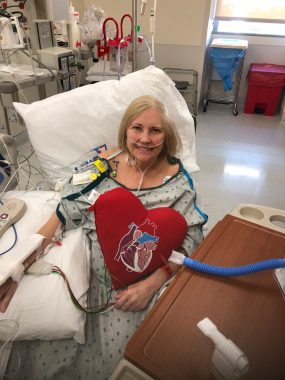 Day 2 of 30
This is Barbara Grubb's story:
My story begins like that of many IPF patients. I had a chronic cough for years and it was a long time before I received my diagnosis. I went to my doctor countless times and received numerous diagnoses, but never any relief. My friends and family said, "There IS something wrong. Go back to the doctor."
One night, my daughter and I took a walk and she said, "You're breathing too hard." I visited a new doctor who sent me to a cardiologist. Following many tests, I was sent to a pulmonologist. More tests. She sent me to a surgeon for a lung biopsy, which showed I had IPF.
I was relieved it was not cancer. Little did I know, I was now a terminal patient.
My pulmonologist referred me to KU Med. I took Esbriet but could not tolerate it, so I went on Ofev. Things were going smoothly, or so I thought.
My tests and lungs remained stable for several years, then suddenly one test showed I needed oxygen, at least when I was up and active. I constantly carried a small Inogen (portable oxygen) machine. After a transplant evaluation, I was told that even with my age, I was a good candidate for lung transplant as I was in otherwise good health. I returned every three months for evaluation.
In March 2020, I needed more oxygen than the Inogen could provide. This meant the end of plane travel and cruises as I had to have tanks of oxygen with me.
At my three-month evaluation, I learned my condition had deteriorated to where I was eligible for a transplant but my 5'3" stature meant I might have to wait longer. Wow, what a shock and quiet drive home that was.
Several months passed, with more appointments and emotions. On Oct. 28, 2020, I finally received the call. Reality set in. I was scared to death.
I received my new lungs, and I thank God for my donor, family, doctors, support group, and friends, and especially my caregiver, Gary. He was and is my rock. Now, I can breathe easy once again!
Pulmonary Fibrosis News' 30 Days of PF campaign will publish one story per day for PF Awareness Month in September. Follow us on Facebook and Instagram for more stories like this, using the hashtag #30DaysofPF, or read the full series.