Actress Rose McGowan Campaigns for Idiopathic Pulmonary Fibrosis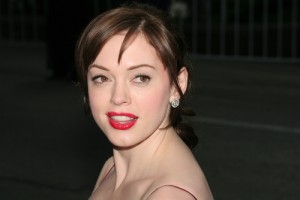 Being diagnosed with an incurable, progressively debilitating and life-threatening disease is difficult to cope with. It is even more difficult when the disease is idiopathic, or "of unknown cause." Former Charmed star Rose McGowan lost her father to an idiopathic form of pulmonary fibrosis — a disease that causes lung scarring and eventual lung failure. Today, there are no approved pharmaceutical treatments in the U.S. for this disease, while Canada Health distributes the one approved product. Idiopathic pulmonary fibrosis patients' only real hope is a lung transplant, but those are extremely rare.
Since her father's passing, McGowan has made it a mission of hers to raise awareness on the disease, which is commonly mistaken by physicians for COPD, a respiratory infection, or even cardiac failure.
"That's the scary and hard thing … You are fighting an enemy in the dark basically, because you don't know why your body is being attacked," she said recently.
On Thursday, together with the Canadian Pulmonary Fibrosis Foundation (CPFF), McGowan will be spending time in Toronto to support the foundation's Kiss IPF Goodbye campaign. A part of the campaign's mission to spread awareness relies on crowdsourcing efforts online to share promotional and informational videos on Facebook and Twitter, using the official hashtag #kissIPFgoodbye. For every video shared, Boehringer Ingelheim — one of the world's 20 leading pharmaceutical companies — will pledge $5 to the CPFF's research initiatives.
[adrotate group="3″]
Boehringer's donations along with those from other sources will gradually turn a CPFF website graphic of a pair of blue lips — one of the disease's characteristic manifestations — red, the foundation's President, Robert Davidson, explained.
Davidson himself is one of the rare and very lucky survivors of idiopathic pulmonary fibrosis, thanks to a life-saving lung transplant. Unfortunately, this is not the case for roughly 5,000 Canadians who die from this disease every year. He believes awareness is a crucial step in encouraging more people to get checked for what they may think is only asthma, and get a headstart on proper disease management.
While this disease affects mostly older adults, pediatric patients with pulmonary fibrosis face a tougher fight for a new pair of lungs as they can normally only receive donations from fellow children. Fortunately, the Organ Procurement and Transplantation Network (OPTN) made a ruling that says adolescent donation protocol will now be based on the seriousness of the patient's disease state and not on their age.