Cymerus MSCs Ease Inflammation, Show Promise for Treating IPF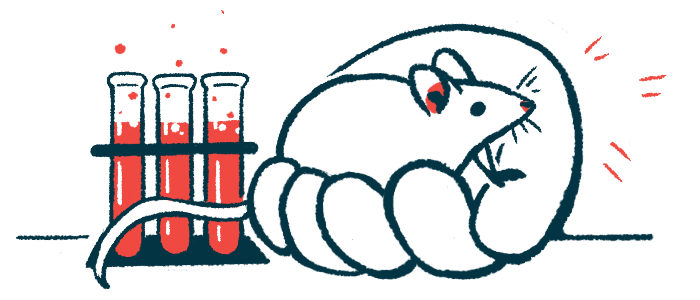 Cymerus mesenchymal stem cells (MSCs), Cynata Therapeutics' experimental cell therapy, significantly lowered the levels of pro-inflammatory and pro-scarring molecules in the lungs of a mouse model of idiopathic pulmonary fibrosis (IPF), the company announced.
The "highly potent" therapy also was shown to significantly reduce immune cell infiltration, and the area containing a tissue scarring-related protein, according to Cynata.
These findings shed light on the mechanisms underlying the cell therapy's previously reported ability to pronouncedly reduce IPF symptoms and improve lung function in the same model.
Both studies were led by Chrishan Samuel, PhD, a fellow at the Monash Biomedicine Discovery Institute, in Melbourne, Australia, and a professor and head of the fibrosis laboratory at the pharmacology department of Monash University. The researcher plans to submit the data for publication in an appropriate scientific journal.
Together, these results strongly support Cymerus MSCs as a potential stem cell therapy for IPF.
"This further study by Professor Samuel, the commencement of which was announced on 2 March 2021, provides extensive detail around the molecular mechanisms associated with the observed high potency of Cynata's proprietary Cymerus mesenchymal stem cells," Kilian Kelly, PhD, Cynata's chief operating officer, said in a press release.
"The results provide additional data in support of investigating the clinical utility of our MSCs in fibrotic [scarring-related] diseases of the lungs and potentially of other organs, a pathway we are seeking to pursue with potential commercial partners," Kelly added.
An increasing number of studies have shown that treatment with MSCs — stem cells that can generate a variety of other cell types — can ease IPF in several animal models.
Their benefits are thought to be associated with their ability to transform into local cell types, suppress the production of molecules involved in scarring (fibrosis), and promote anti-inflammatory and immunoregulatory effects.
In addition, treatment with MSCs from a different, unmatched donor has not been shown to cause immune reactions in the recipient. That suggests that this approach may overcome the need for the identification of matching donors.
Cymerus MSCs are derived from a precursor cell called mesenchymoangioblast (MCA), which in turn is derived from induced pluripotent stem cells (iPSCs). iPSCs are generated from fully matured blood or skin cells that are reprogrammed back to a stem cell-like state, from which they can give rise to almost every cell type.
Contrary to MSCs, iPSCs can be expanded indefinitely, while MCAs can give rise to large numbers of MSCs. As such, Cynata believes it can manufacture all of the MSCs that it will ever need from a single Master Cell Bank of iPSCs derived from a single donor, through just one blood draw.
This is an advantage relative to standard methods of MSC production, which require the use of several donors.
In a previous study, Cymerus MSC treatment was found to significantly reduce lung inflammation and fibrosis in a mouse model of IPF. In that model, mice are exposed to bleomycin — a highly toxic chemotherapy agent — to induce lung scarring. Treated mice also showed improvements in lung elasticity and function.
Newly announced data concerned the results of a second study, using the same model, that aimed to identify the mechanisms behind the therapy's beneficial effects. Mice were given either Cymerus MSC or a saline solution (used as control), either once or once weekly over a two-week treatment period.
Results showed that treatment with Cymerus MSCs significantly reduced the bleomycin-induced influx of pro-fibrotic and pro-inflammatory immune cells, including M2 macrophages, dendritic cells, and T-cells, into the airways/lungs.
Treatment also was associated with significant drops in the levels of the pro-inflammatory TNF-alpha, IL-6, and IL-1-beta molecules. Significant increases were reported in anti-inflammatory molecules, including IL-10 and IFN-alpha, in the lungs.
The airways of mice given Cymerus MSCs also showed a profound reversion of the bleomycin-induced increase in the levels of phosphorylated Smad2, a protein associated with the activation of TGF-beta — a major pro-fibrotic molecule — and a restoration of those of Smad7, a suppressor of TGF-beta signaling.
The levels of phosphorylated Smad3, another protein linked to TGF-beta activation, and of other known pro-fibrotic molecules, such as MAPK, CTGF, PDGF, and ET-1, remained stable after treatment, the researchers noted.
These anti-inflammatory and anti-fibrotic effects were accompanied by a significant reduction in lung tissue area positive for collagen, as well as in collagen fiber density, thickness, and length.
These findings outline "the mechanisms of action by which Cymerus MSCs provide therapeutic efficacy as a potential treatment option for idiopathic pulmonary fibrosis," Cynata stated.