IPF Treatment RXC007 Shows Promise in Easing Scarring in Mice
In Phase 1 trial, good safety profile found in healthy human volunteers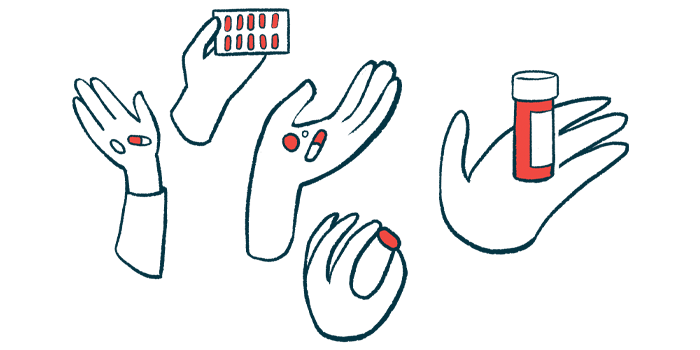 The treatment candidate RXC007 demonstrated promising efficacy in easing fibrosis, or scarring, in mouse models of idiopathic pulmonary fibrosis (IPF) and other scarring-related conditions.
In healthy human volunteers participating in a recently-completed Phase 1 trial, RXC007 displayed a good safety and pharmacological profile.
Now, Redx Pharma, the company developing RXC007, is planning to launch a Phase 2 clinical trial to test the therapy in IPF patients.
"RXC007 has now shown anti-fibrotic effects in a range of preclinical models [and an] encouraging Phase 1 safety and pharmacokinetic profile," Jane Robertson, MD, chief medical officer at Redx, said in a press release.
Supported by the data from the Phase 1 trial and preclinical research, the Phase 2a study (NCT05570058) will assess RXC007's early efficacy, safety, and tolerability. The trial is expected to start later this year. More information on contacts and locations is available on the study's trial page.
Expected to enroll up to 64 participants across 25 study locations in Europe, the 12-week trial will compare several doses of RXC007 with a placebo, when given with or without standard-of-care treatment for IPF. According to the company, data from this study is expected to become available in the second half of 2023.
Testing RXC007 in IPF patients
This Phase 2a trial is expected to serve as a foundation for a future 12-month Phase 2b study that will evaluate the effects of RXC007 plus standard of care on patients' lung function.
Preclinical and Phase 1 data were presented by the company at the International Colloquium on Lung and Airway Fibrosis (ICLF), which took place in Reykjavik, Iceland, Oct. 1–5. The presentation poster was titled "RXC007, a Potent, Highly Selective ROCK2 Inhibitor, Demonstrates Preclinical Efficacy Across Fibrosis Models and Good Phase 1 Safety Profile, Supporting Development in IPF and ILD.
RXC007 is an oral selective inhibitor of Rho-associated protein kinase 2 — dubbed ROCK2. That protein that is part of a cellular pathway believed to play a key role in fibrosis progression in IPF and other disorders.
Supporting data showcased in the poster demonstrated that ROCK activity is increased in lung tissues from both IPF patients and a preclinical mouse model of induced pulmonary fibrosis. In human tissues, higher levels of ROCK2 were seen in fibroblasts — connective tissue cells that are known to drive fibrosis — and in bronchial epithelial cells that line the airways.
In a mouse model of induced PF, lower levels of ROCK2 and/or ROCK1 were sufficient to reduce the levels of hydroxyproline and alpha-smooth muscle actin, two fibrotic markers.
When treated with RXC007, mice with induced PF displayed reduced fibrosis, as measured by different methods of tissue staining and scoring. Moreover, there was a suppression of the expression, or activity, of genes associated with fibrosis in IPF. These effects were similar to those seen with Esbriet (pirfenidone), an approved PF therapy.
RXC007 also was able to reduce skin thickness, fibrosis, and collagen deposits in the lungs and skin of a mouse model of immune-mediated fibrosis that mimicked the effects of scleroderma, an autoimmune condition characterized by scar tissue formation in the skin and internal organs. Collagen is the main protein component of scar tissue.
The poster also detailed findings from the Phase 1 trial (NCT04931147), which evaluated the safety, tolerability, and pharmacological properties of single and multiple doses of RXC007 in healthy volunteers.
The IPF treatment demonstrated a good safety profile, with no adverse events in participants given a single oral dose ranging from 2 to 70 mg, administered once or twice daily. In participants given a 50 mg dose twice daily for 14 days, only mild adverse events occurred; these were temporary and reversible. No differences were observed when the medication was given with food.
The therapy's pharmacokinetics profile — the way a medicine moves through the body, from being absorbed, distributed, processed, and eliminated — was consistent with predictions from preclinical data. RXC007's mean half-life, or the time it takes for a compound's levels to drop to half of those originally given, was 9–11 hours, meaning RXC007 is potentially suitable for once-daily dosing.
Data obtained in the Phase 1 trial "underpins our plan to commence a Phase 2a trial in IPF during [the fourth quarter of 2022]," Robertson said.
"IPF only accounts for about a third of patients who have significant fibrotic lung pathology [disease], and this new preclinical data supports broader clinical development of RXC007 in lung fibrosis including progressive fibrotic interstitial lung disease, which we intend to explore during our future Phase 2b study," added Robertson.