New Molecular Probe Likely to Aid Research Into Fibrosis and Its Treatment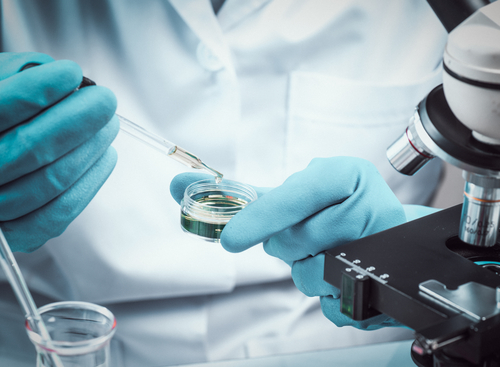 A new molecular probe could aid in studies of pulmonary fibrosis and other fibrotic diseases, a study reports.
The study, "Discovery of a Potent and Selective Covalent Inhibitor and Activity-Based Probe for the Deubiquitylating Enzyme UCHL1, with Antifibrotic Activity," was published in the Journal of the American Chemical Society.
Deubiquitylating enzymes (DUBs) are a family of proteins important in the regulation of several cellular processes, most famously the ubiquitin system. Ubiquitin C-terminal hydrolase 1 (UCHL1) is a DUB that has been implicated in fibrosis.
UCHL1 is a fairly abundant protein — by mass, it makes up 1% of total protein in the brain. But this protein's biological function — how it works and how it promotes disease — has not been fully worked out, in part due to a lack of tools necessary to study the protein in detail.
Researchers with the Tate Group, Imperial College London, and Mission Therapeutics reported developing a new small molecule compound dubbed IMP-1710.
Through a series of biochemical assays, or tests, they demonstrated that IMP-1710 can selectively bind to UCHL1, but not to other DUBs. This compound also specifically binds to the protein's active site — that is, the particular part of the protein that is directly responsible for carrying out its function.
As such, the team believes that IMP-1710 could serve two purposes: first, it can act as a chemical probe to identify active UCHL1 protein, and second, it can act as a specific inhibitor of UCHL1.
"MP-1710 represents a great leap forward both for UCHL1 research and for DUB programmes more broadly … This probe promises to unlock a new era of discovery for the important UCHL1 protein," Edward Tate, PhD, a professor at Imperial College London and the study's senior author, said in a press release.
Researchers used IMP-1710 to treat lung cells taken from people with idiopathic pulmonary fibrosis (IPF), which had been stimulated with pro-fibrosis chemical signals. The levels of the protein alpha-smooth muscle actin (aSMA) were assessed as a marker of fibrosis.
Treatment with IMP-1710 blocked aSMA by more than 50%, without causing notable toxic effects to the cells. These results were comparable to those seen when cells were treated with  Ofev (nintedanib), an approved IPF treatment.
"We show that selective UCHL1 inhibitors can suppress fibrotic phenotypes in IPF cellular models without substantial cytotoxicity [toxicity to cells]," the researchers wrote.
"The novel chemical probe [IMP-1710] will support and drive ongoing research towards treating fibrosis and other diseases with high unmet need," said Nick Edmunds, vice president and head of DUB Discovery at Mission Therapeutics.