NYC Rehab Therapist Offers PF Patients Novel Approach to Exercise and Breathing
He's a musician and a clothing designer. He's a published author. He's a professional scuba-diving instructor — and he has an intense passion for underwater shark photography. In fact, Noah Greenspan is anything but your typical New York pulmonary physical therapist.
Since 1998, Greenspan has been running the Pulmonary Wellness & Rehabilitation Center in midtown Manhattan. In the 20 years since then, the versatile doctor and his 10-member team have treated more than 100,000 patients with pulmonary fibrosis (PF), pulmonary hypertension (PH), and chronic obstructive pulmonary disease (COPD).
"In all three diseases, the No. 1 symptom is shortness of breath. The difference is in the etiology of their respective disease processes. Whereas PF involves scarring of the lungs, COPD involves obstruction of the airways, and PH is related to increased pressures in the pulmonary circulation," he said. "One of the things we're constantly working on is awareness. Up until recently, there were no treatments for PF, so a lot of people were never even tested for it."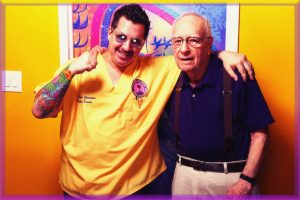 Now, however, two therapies approved by the U.S. Food and Drug Administration are on the market: Ofev (nintedanib), developed by Boehringer-Ingelheim, and Esbriet (pirfenidone), developed by Genentech.
"They don't cure PF and they don't reverse the damage that has been done, so the best we can hope for is to stop or slow the progression," Greenspan said, adding that both medicines have potentially serious side effects, including gastrointestinal discomfort. "I know a lot of people who have decided not to take these drugs because of the side effects. That is where lifestyle changes like exercise, nutrition and stress management can be extremely helpful."
Greenspan, whose arms are covered with colorful fish tattoos, enjoys schmoozing with his patients, many of whom are in their 80s and 90s; the oldest is 101. He began his professional career at New York University (NYU) Medical Center's Rusk Institute of Rehabilitation Medicine, with clinical rotations in medical, surgical, orthopedic, and neurologic rehabilitation, chest physical therapy, and ultimately, cardiovascular and pulmonary rehabilitation.
In a phone interview from his clinic on East 38th Street, Greenspan explained the difficulty in diagnosing and treating PF, which affects some 5 million people around the world, including more than 200,000 people in the United States alone.
"I started seeing pulmonary fibrosis patients in 1995, at a time when most rehab programs did not. Back then, very few patients were referred to rehab; they were often considered too sick," he said. "But we felt that telling a patient 'you're too sick for rehab' is like saying 'go home and die.' "
In fact, the life expectancy for a PF patient is generally three to five years following a diagnosis without an intervention such as a lung transplant.
"But there's a lot of misdiagnosis, because it's such a rare disease," Greenspan said. "The other problem is that shortness of breath is such a nonspecific symptom, meaning that it can have many different causes and be a symptom of many different conditions. And often, before people think about PF — especially idiopathic pulmonary fibrosis, or IPF — they'll think about asthma or emphysema."
That's why a huge number of patients are given pumps or inhalers to try, but they never work, he said.
"It takes a very complex diagnostic set of tools," Greenspan added. "Often, to really solidify the diagnosis, you need an open-lung biopsy, but getting the right diagnosis is so crucial because some of the treatments for some interstitial lung diseases are actually harmful to others."
Treatment is crucial as well.
"One of the characteristics of PF is that people's oxygen saturation often plummets with almost any activity, so in order to keep them well-saturated, you have to give them a ton of oxygen. By doing that, we can significantly improve exercise tolerance," he said.
Among other things, Greenspan has trained thousands of patients and hundreds of students and clinicians. From 1995 to 2003, he was on the faculty of NYU, which named him a "master clinician" in the areas of cardiovascular and pulmonary physical therapy.
In 2013, Greenspan — who plays piano and saxophone in his spare time — launched the "Ultimate PF" webinar series, and has conducted hundreds of hours of free webinars for people with respiratory diseases. Then in 2017, he published a book, "Ultimate Pulmonary Wellness," which can be read online at no cost. Last year, Greenspan introduced Pulmonary Wellness online, and about 400 people have signed up for his 42-day boot camp.
"Often, people with PF are able to increase their exercise tolerance and decrease their shortness of breath," Greenspan said. "We just completed a data analysis of patients who have gone through our program, and the overwhelming majority demonstrated a significant improvement in exercise tolerance. Our goal is to teach patients how to breathe better, and to exercise them aerobically so their body becomes better at using oxygen and they become less short of breath."