Long-term Use of Ofev Safely Slows IPF Progression, New Phase 3 Extension Trial Data Show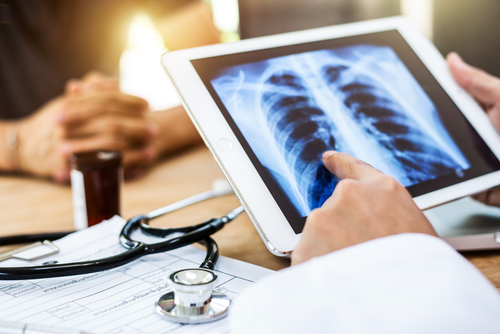 Long-term treatment with Ofev (nintedanib) can safely slow disease progression in people with idiopathic pulmonary fibrosis (IPF), new four-year data from INPULSIS-ON, an open-label Phase 3 extension trial, show.
The findings were reported in "Long-term safety and tolerability of nintedanib in patients with idiopathic pulmonary fibrosis: results from the open-label extension study, INPULSIS-ON." The study was published in the journal Lancet Respiratory Medicine.
Developed by Boehringer Ingelheim, Ofev is one of the first IPF treatments approved by the U.S. Food and Drug Administration (FDA) and European Medicines Agency (EMA).
Approval was based on Ofev's demonstrated efficacy in slowing disease progression and lung scarring in a number of clinical studies. These included two global Phase 3 studies, INPULSIS 1 and 2 (NCT01335464 and NCT01335477), which evaluated the oral treatment's efficacy and safety — at 150 mg twice daily compared to placebo — over 52 weeks.
A total of 734 patients who completed the earlier trials continued the treatment in the open-label INPULSIS-ON study (NCT01619085). Of these patients, 430 remained on twice-daily oral Ofev therapy started in the INPULSIS studies, and 304 switched from placebo to Ofev capsules twice a day.
To date, patients on continuous treatment have been taking Ofev for a median of 44.7 months, or almost four years, and some for up to 68 months. This trial is expected to conclude in December.
An exploratory study goal of treatment effectiveness — an analysis of its impact on lung function (calculated over 48 months or 192 weeks) — showed a mean change from baseline (study start) in forced vital capacity (FVC) of 327.2 mL, and an adjusted annual rate of  FVC decline of 135.1 mL per year. This value is consistent with data reported in the INPULSIS trials, and is lower than the 200 mL per year FVC decline found in placebo-treated IPF patients in those earlier Phase 3 studies.
FVC measures how much air a person can exhale in one forced breath, and slower and lesser declines are evidence of a greater retention of lung capacity.
Acute exacerbations, or flares that indicate sudden disease worsening, were reported in about 13.6% of INPULSIS-ON patients during this period.  This represented an adjusted incidence rate similar to that seen in the prior studies, further supporting Ofev's effectiveness in reducing the risk of acute exacerbations, the researchers reported.
"We are encouraged by these results showing that Ofev slows disease progression of IPF beyond four years," Mitchell Kaye, MD, president of Minnesota Lung Center/Minnesota Sleep Institute, Minneapolis, said in a press release. "These findings offer real hope to people with IPF and provide further supportive evidence for the long-term efficacy of Ofev."
In general, the safety profile of Ofev in this extension trial has been consistent with that reported in previous studies, and with post-marketing surveillance data collected in the U.S. during the first year it was available for patient use.
"These findings suggest that nintedanib [Ofev] has a manageable safety and tolerability profile over long-term use, with no new safety signals," the researchers wrote.
The most common adverse event reported was diarrhea, and led about 7% of patients to discontinue treatment. About 12.8% stopped treatment due to IPF progression.
"The INPULSIS-ON results provide valuable insights about the long-term safety and efficacy of Ofev in IPF and supply further evidence of its positive impact on the lives of people living with this disease," said Susanne Stowasser, MD, associate head of respiratory medicine at Boehringer Ingelheim.