Scorpion Venom Cocktail Seen to Ease Lung Scarring in PF Mice
Scorpions and their venom long used in traditional Chinese medicine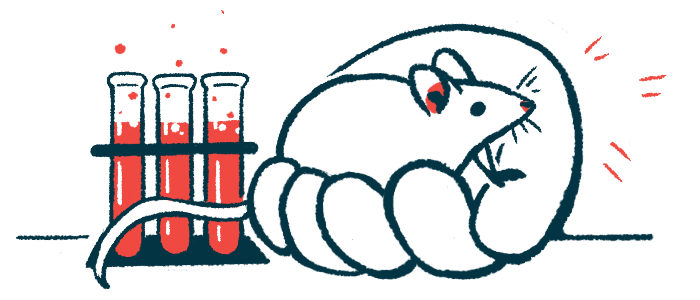 Treatment with an extract of scorpion venom eased lung scarring in a mouse model of pulmonary fibrosis (PF), a study reported.
The study, "Scorpion venom polypeptide governs alveolar macrophage M1/M2 polarization to alleviate pulmonary fibrosis," was published in the journal Tissue and Cell.
Scorpions and their venom have been used in traditional medicine for millennia to ease spasms and reduce pain, among other applications. Modern research suggests that certain components of scorpion venom can modulate the activity of specific immune cells.
Scorpion venom polypeptide, or SVP, lowered collagen production in the mice
A team of scientists in China tested the effects of scorpion venom polypeptide (SVP), a protein cocktail extracted from scorpion venom, in a mouse model of induced PF.
After triggering the onset of PF with the chemical bleomycin, researchers fed mice with SVP-laced food for 21 days, and then conducted a battery of tissue and immune analyses.
PF is characterized by the overproduction in the lungs of collagen, a connective protein that is the main component of scar tissue. Results showed that SVP-treated mice had a significant reduction in total collagen production compared with untreated PF mice.
SVP treatment also led to a marked decrease in several PF-related inflammatory signaling molecules, such as transforming growth factor-beta (TGF-beta) and interleukin-4 (IL-4).
Mice with PF show an increase in the levels of a type of immune cell called macrophages in the lungs. Depending on their biochemical activity, macrophages can be broadly categorized as either M1 or M2; the latter is generally more associated with fibrosis. SVP treatment led to fewer pro-fibrotic M2 macrophages, and more M1 macrophages.
Additional experiments in mice and cell cultures showed that SVP treatment reduced the activity of a pro-inflammatory pathway called JAK/STAT that has been implicated in the development and progression of PF.
"The JAK-STAT signaling system appears to be involved in the progression of pulmonary fibrosis in mice, and blocking this mechanism can reduce fibrosis," the researchers wrote.
Treating mice with tofacitinib, a small molecule known to block JAK/STAT, led to similar results as SVP treatment. Tofacitinib is sold under the brand name Xeljanz as a treatment for certain forms of arthritis and inflammatory bowel disease.
"This study discovered that SVP can suppress the JAK/STAT6 signaling pathway, hinder alveolar macrophage M2-type polarization, and ameliorate pulmonary fibrosis" in a mouse PF model, the scientists wrote.