Treatment Candidate TXR-1002 Reduces IPF Rat Model Lung Fibrosis
Investigational treatment compares to approved IPF therapy Ofev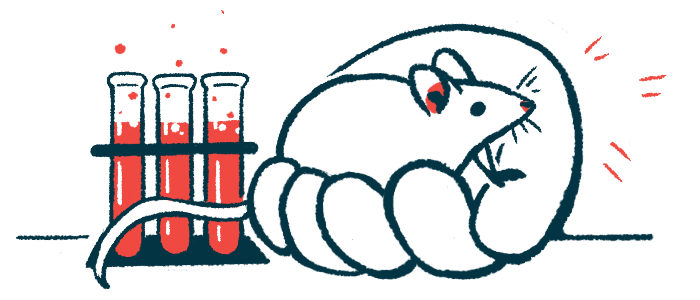 TXR-1002, Aria Pharmaceuticals' investigational candidate for idiopathic pulmonary fibrosis (IPF), effectively prevented the buildup of scar tissue, or fibrosis, in the lungs of a rat model of the disease.
Its effectiveness was comparable to that of the approved IPF therapy, Ofev (nintedanib) and was consistent with findings from two previous studies the company did in a mouse model of IPF.
The findings were presented at the 6th Annual Antifibrotic Drug Development Summit, Nov. 9–11, in Boston.
"We continue to see promising data for our IPF candidate TXR-1002, validating our efforts to advance this program toward [investigational new drug]-enabling studies," said Anjali Pandey, PhD, senior vice president of nonclinical R&D and chemistry at Aria, in a press release. "This is our third robust preclinical study for TXR-1002 that showed positive results and by utilizing a more advanced rat model. We are confident in the promise of this treatment as a viable candidate for clinical research."
IPF is estimated to affect more than 3 million people globally. As its continues to be more prevalent, there is a critical need for new and more effective treatments.
"People suffering from IPF need new and novel treatments because while today's treatments slow disease progression, they do not stop it and are associated with a high rate of discontinuation," said Martin Kolb, MD, PhD, director of the division of respirology and Jack Gauldie Boehringer Ingelheim Chair in Interstitial Lung Disease at the department of Medicine at McMaster University.
TXR-1002 was discovered with Aria's artificial intelligence-based program, which can rapidly screen more than 2 million compounds to identify those with the most promise for treating IPF. Those candidates can then be validated in a mouse model of the disease.
That process, which takes about 12 weeks, is much faster than the years it sometimes takes to identify and validate new therapeutic targets using traditional approaches.
According to the company, compounds identified with Aria's platform are about 30 times more likely to be successful in preclinical testing, maximizing the likelihood of their success in clinical evaluation.
Results of TXR-1002 on lung fibrosis
Results from the first mouse validation study of TXR-1002 were presented at last year's IPF summit.
Newborn mice were exposed to bleomycin, a chemical agent used to trigger the onset of IPF, and then treated for three weeks with TXR-1002 or Ofev.
Results showed that three weeks with TXR-1002 effectively reduced signs of fibrosis in treated mice compared with untreated animals. TXR-1002 also slightly outperformed Ofev.
Three weeks of treatment also lowered the number of neutrophils and lymphocytes, two types of immune cells, that had infiltrated the lungs, again demonstrating better effectiveness than Ofev.
In that study, treatment with TXR-1002 was prophylactic, meaning it was initiated before overt IPF signs had emerged. Researchers conducted another study using the same mouse model to see if it could similarly reduce signs of IPF if started after the disease had started progressing.
Some mice were treated prophylactically — the same way they had been in the previous experiments — while others started TXR-1002 after a one-week delay, for a total of two weeks.
Results showed this delayed mode of treatment was able to significantly reduce lung fibrosis with similar effectiveness to Esbriet (pirfenidone), another approved IPF treatment.
Rat model results with TXR-1002
In the most recent study, the team evaluated the effects of TXR-1002 in a bleomycin-induced rat model.
Rats were first given bleomycin to trigger the onset of IPF. A week later, they were treated with oral TXR-1002 at doses ranging from 3 to 100 mg/kg, Ofev, or a placebo, once daily (twice a day in the case of Ofev) for three weeks.
As expected, the animals given bleomycin had increased lung weight and showed signs of lung fibrosis. These signs included higher levels of collagen — a structural protein implicated in fibrosis — as well as high levels of hydroxyproline, an amino acid in collagen. They also had elevated Ashcroft scores, a method of quantifying tissue scarring.
When given at doses of 1o, 3o, or 100 mg/kg, oral TXR-1002 significantly reduced lung weight and hydroxyproline levels in treated animals compared with rats who didn't receive TXR-1002.
Moreover, rats given any of these three higher doses showed decreased Ashcroft scores and collagen levels, similar to those that received Ofev, reflecting significant decreases in lung fibrosis.
According to Aria, TXR-1002's mechanism of action targets a number of signaling pathways that are altered in IPF, including suppressing inflammation and reducing the proliferation of fibroblasts, the connective tissue cells considered the drivers of fibrosis.