Pursuing a Lung Transplant
Last week, I visited my pulmonologist at the University of California, San Francisco. I was a little nervous, because my last appointment six months ago was very discouraging. I had worsened significantly. This time, I got better news: no change since the last visit, which was encouraging. My doctor is in my corner, and keeps referring me to the lung transplant team. I keep getting a "no" because of a unique situation.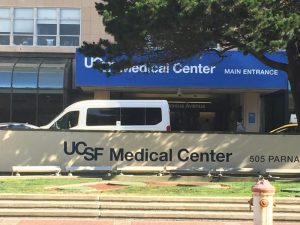 I developed pulmonary fibrosis as a rare complication from the chemotherapy and radiation I received to treat breast cancer four years ago. Now, that was a low blow! Centers that perform lung transplants require a patient to be cancer-free for five years before they will consider you for a transplant. As you can imagine, this constraint has been very difficult to deal with; I'm hoping I'll still be alive at the five-year mark.
This time, however, when my doctor referred me, the transplant team said, "yes!" This doesn't mean they will admit me for the in-depth testing that is required, or put me on the list. It just means they are willing to schedule an appointment and talk with me. But it is a great first step.
There are things I need to do to get myself in better shape, such as eating healthier, exercising more and losing some weight. I've known that making these healthy changes would be good for me, but now I feel very motivated. It's so nice to have a goal to work toward.
I decided to ask for support and prayers, so I did a Facebook live video to share the news and seek prayers. You can watch the video here.
I am so amazed by the amount of love, prayers and support I received. It encourages me and strengthens me for the road ahead.
To be honest, the process of considering a lung transplant scares me a lot. I've decided to get as much information as I can, and take the time I need to process everything I learn. I know there is a possibility that I may not be deemed a suitable candidate, but it is certainly worth a try!
I hope this information is helpful to you. I will keep you posted on how everything goes. I'd love to know what you think.
Has your doctor brought up the possibility of a lung transplant? Have you been referred to a transplant team? If so, what was your experience like?
Please leave a comment below, and share with those who could benefit via e-mail or on social media. We're in this together!
***
Note: Pulmonary Fibrosis News is strictly a news and information website about the disease. It does not provide medical advice, diagnosis, or treatment. This content is not intended to be a substitute for professional medical advice, diagnosis, or treatment. Always seek the advice of your physician or other qualified health provider with any questions you may have regarding a medical condition. Never disregard professional medical advice or delay in seeking it because of something you have read on this website. The opinions expressed in this column are not those of Pulmonary Fibrosis News or its parent company, BioNews Services, and are intended to spark discussion about issues pertaining to pulmonary fibrosis.