Pursed Lip Breathing Helps Reduce Stress and Anxiety
Dealing with a serious chronic illness like pulmonary fibrosis can be highly stressful, to say the least. Absorbing the seriousness of our illness, alongside dealing with repeated clinic visits, tests, and medication side effects can leave many patients wrestling with worry and anxiety.
It's easy to get stuck in a worry cycle. Getting trapped in worrying about the future reduces our ability to enjoy the life we have now. It can also lead to difficulty sleeping, fatigue, and body aches and pains.
Pursed lip breathing
I first learned about pursed lip breathing when I went to pulmonary rehabilitation. This way of breathing reduces the number of breaths you take by slowing your breathing. This keeps your airways open longer, allowing more air to flow in and out of your lungs. It also strengthens your respiratory muscles. Simply breathe in through your nose with your mouth closed and breathe out at least twice as long through tightly-pressed (pursed) lips. I breathe in for a count of two, and out for a count of four. You can use pursed lip breathing when you are short of breath to get your breathing back under control and calm yourself down.
I recently finished a book by Richard P. Brown, M.D., and Patricia L. Gerbarg, M.D., called "The Healing Power of the Breath: Simple Techniques to Reduce Stress and Anxiety, Enhance Concentration, and Balance Your Emotions." I found it to be very helpful.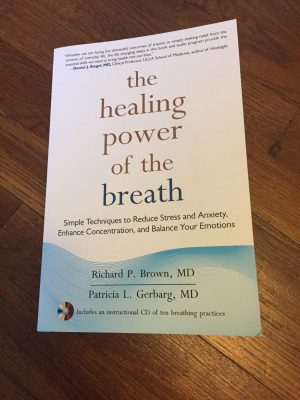 The authors share lots of breathing exercises, including pursed lip breathing. This breathing technique accesses the parasympathetic nervous system, which soothes and calms us when we feel anxious or distressed. The book includes a CD with an audio program which guides you to breathe in a relaxing way at a regular pace.
For more information, I encourage you to watch a webinar, The Healing Power of the Breath, with Dr. Brown and Dr. Noah Greenspan. They share how these breathing techniques can help PF patients. Dr. Brown demonstrates some of the breathing exercises in the book and adapts them for PF patients. At first, I didn't think I could do these exercises, but with a little practice I mastered them, and they really helped me to relax.
Empowering
I found the webinar very empowering and hopeful. We often believe there is little we can do to improve our health because of having such a dismal disease. The techniques shared by Dr. Brown and Dr. Greenspan aim to lower stress and anxiety and improve quality of life. Dr. Brown also explained that the breathing technique allows us to use more of our lungs' surface. I encourage you to watch the webinar and practice this breathing and see what you think. I liked it so much that I bought the book.
A natural alternative
Many PF patients suffer from anxiety and may not want to take anti-anxiety medication. As a therapist of 30 years, I have found natural alternatives to be helpful for anxiety.
Help with sleep
It is common for PF patients to struggle with getting to sleep and staying asleep. This is often due to medication side effects, anxiety and fears about the future, or an overactive brain. Practicing pursed lip breathing before bed can reduce the over-thinking, anxiety, and stress that interferes with a good night's sleep.
Caregivers can benefit too
We love our caregivers! It's important for caregivers to take care of themselves as they are susceptible to "caregiver stress" and "burnout."  These breathing techniques are wonderful self-care tools for caregivers too. Dr. Brown encourages patients and caregivers to practice pursed lip breathing techniques together twice a day if possible. Give it a try!
I'd love to hear from you!
Do you struggle with stress and anxiety? Do you use pursed lip breathing to cope? What else do you do to get relief from stress and anxiety?
Please leave a comment below and share with those who could benefit via email or on social media.
***
Note: Pulmonary Fibrosis News is strictly a news and information website about the disease. It does not provide medical advice, diagnosis, or treatment. This content is not intended to be a substitute for professional medical advice, diagnosis, or treatment. Always seek the advice of your physician or other qualified health provider with any questions you may have regarding a medical condition. Never disregard professional medical advice or delay in seeking it because of something you have read on this website. The opinions expressed in this column are not those of Pulmonary Fibrosis News or its parent company, BioNews Services, and are intended to spark discussion about issues pertaining to pulmonary fibrosis.