Inhaled IPF therapy VYN201 eases fibrosis in mouse model
Mice given therapy at two highest doses had significant reductions after 21 days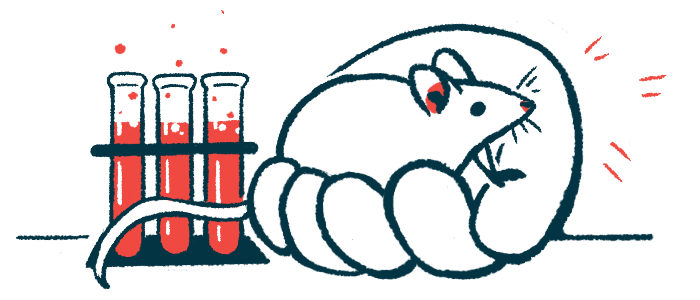 Vyne Therapeutics' experimental inhaled therapy VYN201 led to significant reductions in lung fibrosis and improvements in lung function in a mouse model of idiopathic pulmonary fibrosis (IPF), the company announced.
"The data from this well-validated preclinical model of IPF clearly demonstrates VYN201's potential to deliver a potent anti-inflammatory and anti-fibrotic response," David Domzalski, president and CEO of Vyne, said in a press release.
IPF is marked by chronic and progressive inflammation and fibrosis (scarring) of lung tissue, leading to shortness of breath and difficulty with daily activities.
Developed using Vyne's proprietary InhiBET platform, VYN201 is a small molecule that inhibits bromo-domain and extra-terminal domain proteins (BET), which are known to regulate inflammation-related genes.
Moreover, VYN201 is considered a "soft drug" since it was specifically designed to metabolize quickly into an inactive form after exerting its therapeutic effect to prevent side effects from excessive exposure.
Recommended Reading
Effects of VYN201 in a mouse model of IPF
Researchers evaluated the treatment in a mouse model of IPF to learn more about its potential.
IPF was induced in the animals with a chemical called bleomycin, delivered directly into the airways. A week later, the mice received one of four doses of VYN201 (0.1, 0.2, 0.5, or 1 mg/mL) or a placebo, again into the airways, every other day for 14 days.
Those that received VYN201 at either of the two highest doses had significant reductions in lung fibrosis compared to the placebo group after 21 days. Specifically, measures of lung fibrosis were 65.8% lower in mice given 1 mg/mL of VYN201 compared with a placebo.
Levels of hydroxyproline, a marker of fibrosis, were also significantly reduced at day 21.
It also demonstrated a dose-dependent improvement in blood oxygen saturation, the amount of oxygen circulating in the blood, after 21 days. Since the lungs are where oxygen is transferred into the bloodstream, a lower blood oxygen saturation typically reflects worse lung function.
While healthy mice had a mean oxygen saturation of 95.2%, mice with bleomycin-induced IPF that received a placebo had a saturation of 83.6% after 21 days. Mice given 1 mg/mL of VYN201 had 92.4% saturation, an 8.8% improvement relative to a placebo.
Lung imaging revealed dose-dependent improvements in functional lung volume, a measure of how much air can be taken up in the lungs, with VYN201 relative to a placebo.
Mice given the highest dose had a 51.8% mean improvement in functional lung volume compared to a placebo. Lung volume improvements correlated with gains in blood oxygen saturation and fibrosis reductions.
"These data in IPF support our thesis that VYN201 has potential utility as a locally administered therapy across a variety of immuno-inflammatory indications and further underscores the potential value of our InhiBET BET inhibitor platform," Domzalski said.