Potential IPF Gene Therapy Engages Target in 98% of Patients in Trial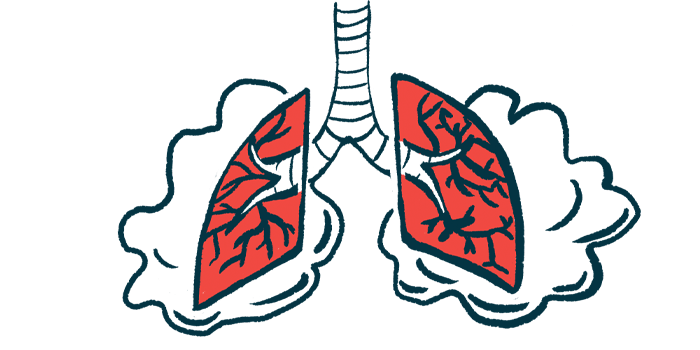 A single dose of the investigational oral therapy PLN-74809 for idiopathic pulmonary fibrosis (IPF) achieved therapeutic target engagement of up to 98% in the lungs of patients, according to interim results of a Phase 2a trial.
At all doses tested, the anti-fibrotic, or anti-scarring, therapy engaged its intended target by more than 50%, meeting a previously established threshold for predicted activity.
"We believe the high target engagement levels seen after the administration of just a single dose illustrate the potential of PLN-74809 to show a potent anti-fibrotic effect in our longer-term clinical trials," Éric Lefebvre, MD, chief medical officer of Pliant Therapeutics, the company developing PLN-74809, said in a press release.
PLN-74809 is a small molecule capable of suppressing the activity of alpha v beta 1 and alpha v beta 6 integrins, which are cell-surface proteins involved in cell adhesion that can also promote scarring  (fibrosis) by activating a molecule called TGF-beta.
Preclinical studies demonstrated that PLN-74809 was able to prevent fibrotic tissue growth in the lungs and liver by blocking TGF-beta activation. Furthermore, a previous> Phase 1b trial showed PLN-74809 was well-tolerated and capable of preventing the activation of TGF-beta by up to 70% in healthy volunteers.
As IPF is a chronic disease, demonstrating efficacy in human trials can take years and is expensive. As such, Pliant launched a Phase 2a proof-of-mechanism study (NCT04072315) to evaluate PLN-74809's interaction with integrin proteins over a relatively short period of time. The assessments were done using positron emission tomography or PET scans.
IPF patients, all being treated with the anti-fibrotic medicine Ofev (nintedanib), underwent PET scans before receiving one of four possible single doses of PLN-74809 — at 60, 120, 240, or 320 mg.
The participants were scanned again four hours later to measure target engagement in regions of high fibrotic activity or scarring in the lungs. After a washout period without treatment — to ensure no medications were still in the body — some patients were given a second dose at a different level, followed by a second scan.
In total, four participants received six single doses of PLN-74809, generating a total of six post-dose scans.
In the patient receiving the lowest 60 mg dose, PLN-74809 achieved a 52% engagement with integrins. In the second patient, there was 60% target binding at 120 mg and 98% engagement at 240 mg. A third had 71% engagement at 240 mg and 83% at 320 mg. Finally, the fourth patient, given 320 mg of PLN-74809, achieved 94% integrin engagement.
Measurement of PLN-74809 in the bloodstream showed a dose-response at all dose levels. The therapy also was well-tolerated, with no serious adverse events reported at any dose.
"These data represent a significant step forward in our understanding of the potential anti-fibrotic activity of PLN-74809 and support the selected doses in our ongoing 12-week Phase 2a INTEGRIS-IPF trial," Lefebvre said.
INTEGRIS-IPF (NCT04396756) is a randomized, dose-ranging, placebo-controlled study seeking to evaluate PLN-74809's safety, tolerability, and pharmacological properties in IPF patients. The study is currently recruiting up to 84 participants, ages 40 and older, with a diagnosis of IPF, at 29 sites across the U.S., Canada, Australia, New Zealand, Italy, and the Netherlands.
Eligible participants are expected to meet certain criteria on measures of lung function, specifically, an FVC % predicted of 45% or greater and a DLco of 30% or greater. Patients treated with Ofev or Esbriet (pirfenidone) are allowed to participate in the study, provided they have been on a stable dose for at least three months.
PLN-74809 also is being investigated as a possible treatment for primary sclerosing cholangitis (PSC), a liver disease characterized by progressive fibrosis and inflammation of the bile ducts.
The therapy received orphan drug designation from the U.S. Food and Drug Administration (FDA) for both IPF and PSC, which is given to experimental treatments for rare diseases to support their development.